Why You Should See a Chiropractor for Neck Pain
Why You Should See a Chiropractor for Neck Pain
Written By First Choice Chiropractic on June 28, 2021
---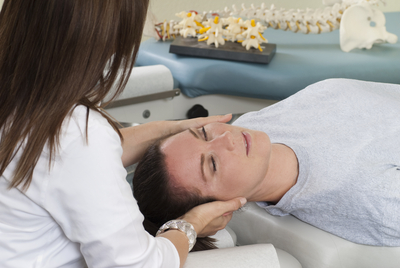 If you suffer from frequent or chronic neck pain, one of the best things you can do is see one of our chiropractors at First Choice Chiropractic in Peoria. We'll assess your case and approach the root of the problem so you can get your life back. We want to tackle your pain before it becomes a lifelong issue.
Small Issues Can Be a Mask for Serious Health Conditions
Poor posture and age-related wear and tear are the two leading causes of neck pain. So that occasional sore morning or random cluster of a few days of pain are warning signs something's out of balance. Putting off proper medical care can turn an easy fix into a major condition.
Pain is your body's way of saying you need to change something, namely how your body moves in hopes of getting the pain to stop. You need to find out if your pain comes from a herniated disc (which can cause nerve damage), cervical spondylosis, which starts off with no symptoms but gets worse as you get older, a bone spur, which are more common with age, or something else.
Chiropractors can make an accurate diagnosis of your neck pain and give you an appropriate adjustment. Chiropractic neck adjustments are designed to carefully loosen up the joints of the cervical vertebrae in your neck. This takes pressure off pinched nerves, ends muscle spasms, and more.
A review of scientific literature published in the March/April 2007 issue of the Journal of Manipulative and Physiological Therapeutics, collected ample evidence that spinal manipulations successfully provide neck pain relief.
Another 2012 study, published in the Annals of Internal Medicine, found that chiropractic paired with exercise is also able to significantly reduce neck pain by up to 75%. Over half of those patients maintained those improved pain levels one year later.
Your First Choice for Neck Pain Relief in the Phoenix Metro Area
First Choice Chiropractic was voted one of the top ten chiropractors in all of Arizona. We offer a variety of chiropractic methods, pediatric care, massage therapy and physiotherapy to all our patients.
We have been caring for patients for 20 years and have successfully helped our patients find relief from back pain, neck pain, headaches, sciatica and herniated discs. We also love helping children with ear infections, asthma, colic, allergies, ADHD, autism, reflux and more. Their happiness and abundant energy always brightens our days.
We're thankful to have been able to treat the wonderful patients in Peoria, Glendale, and the entire Phoenix area over the years and look forward to the opportunity to meet you in person and discuss your specific health challenge.
Have questions or need to schedule an appointment? Call us at (623) 213-7166 or go online and fill out our online form.

Posted In: Chiropractic Neck Pain Treatment